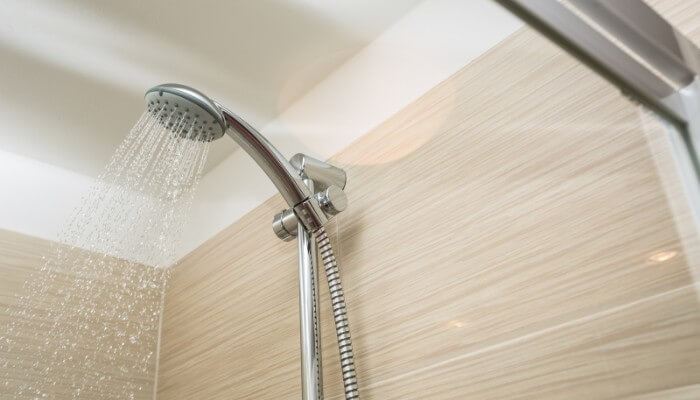 Finding & Fixing Low Water Pressure In the Shower
Dealing with low water pressure in your shower can be frustrating - especially when it's the only area of your home affected. If every other tap and appliance has adequate water pressure, there are a few common causes to consider.
Whether it's a clogged shower head or a water heater issue, finding the cause of the problem is the first step to solving it. Once you know where the source is, you can fix low water pressure issues or work with a professional plumber to get back to the comfort you deserve.
Is the Water Pressure In Your Shower Too Low?
If the water pressure in your shower seems too low, it may be below the normal PSI for your home. Residential water pressure is measured in pounds per square inch (PSI) to gauge the appropriate range of water force from taps and showers.
PSI levels depend on a few factors like home size, locations of main water lines and pipe size. The average Florida home's water pressure should fall somewhere between 40 and 80 PSI. If PSI falls below 40 PSI, you may notice inadequate water pressure that impacts showers, dishwashing, handwashing and more.
How to Test Your Shower's Water Pressure
To test your shower water's flow rate, you can measure how long it takes to fill a 1-liter measuring jug. If it takes more than 6 seconds for the jug to fill, the water pressure is likely too low.
Ideal pressure: 15 liters per minute
Acceptable pressure: 10-15 liters per minute
Poor pressure: Below 10 litres per minute
Troubleshooting Shower Water Pressure
It can be baffling when your shower has no water pressure but other fixtures work fine. The problem is more common than you might think, though. Narrowing down the issue and eliminating possible causes is the first step to restoring adequate water pressure.
Check if the shower water pressure is weak compared to other areas of the house
Determine if both hot and cold water has low pressure
Test the water pressure of the bathroom sinks
Check if other bathrooms or areas of the home are affected
If any other area of your home has low hot water pressure, a bigger plumbing problem may need to be repaired. If the issue is isolated, there are a few common causes to be aware of.
What could be causing low water pressure in my shower?
Low-flow showerheads that decrease water flow
An issue with the water heater if only hot water is affected
Worn-out mixing valves and closed main shutoff valves
Faulty water pressure regulators
How to Increase Water Pressure In the Shower
If the culprit is your showerhead, it may be an easy fix! Soaking your shower head in vinegar for at least 8 hours and replacing low-flow showerheads with a more powerful option are two quick ways to increase water pressure in your shower.
Ensuring your showerhead is in good working condition can help you avoid a call to the plumber for a simple fix. If you suspect there's scale buildup, try cleaning or replacing your showerhead first.
What should I do if my shower has no water pressure?
When there's no water at all from your shower, there is probably a bigger issue. Trying to fix a water heater on your own can not only put you at risk for burns and injuries but may void your manufacturer's warranty. Corroded valves and pipes should also be handled by a plumber to avoid breaking and flooding.
If you're ever in doubt, the best thing to do is get on the phone with a plumber to check if the issue needs professional inspection.
Fix Your Water Pressure Today for Better Showers
Plumbing issues of any kind can be stressful. When water pressure issues disrupt your comfort, don't wait another day to find the cause and get it fixed.
If you're tired of asking yourself "Why is the water pressure low only in my shower and not in other faucets?" take these steps to get things running again. When you need a Pompano Beach professional to deal with the issue, John The Plumber is here to help! We'll troubleshoot and diagnose the issue to find the right repair solution at the right price.
Get back to the comfort you deserve - call 954-781-4823 today!