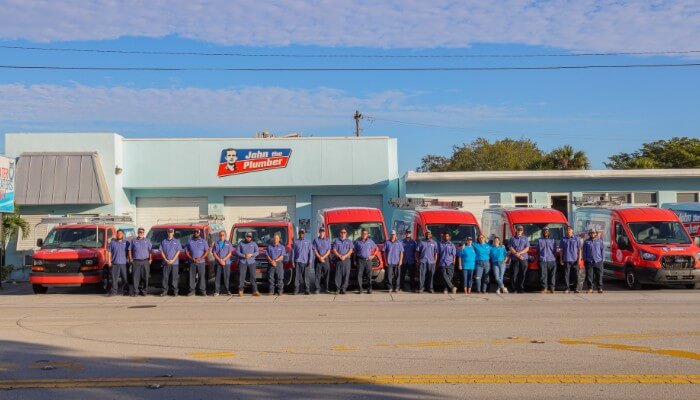 Meet The Team At John The Plumber In Pompano Beach, FL
John The Plumber has been a family-owned business since it started in 1979, but plumbing careers go back even further in our family's history! You can learn more about the history of the company in general on this timeline about John The Plumber.
Right now, we want to introduce you to the brothers that are carrying on John's legacy right here in Pompano Beach.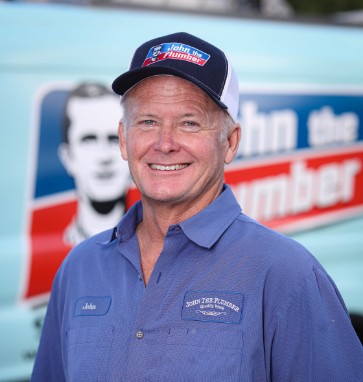 John
This is actually the second John to own John The Plumber! And, while that sets up a nice story about generational plumbing, this almost went a very different way.
"My dad wanted to try something new when we moved to Pompano Beach," John says. "He opened up a shoe repair store and I was learning shoe repair from him."
After a while, John's dad realized he missed the specific kind of help that only a plumber can give you. In 1979, with John now running the shoe store on his own, John's dad left to start this very company.
The shoe business was all John had ever known. However, with his dad gone to start John The Plumber, he realized what had been most appealing about the shop was working with his dad. "I would have followed him into any job just to be around him."
The decision was made to sell the shoe store and John began to learn the original family business.
"It really was a family business then," John remembers of the company's beginning. "We were working out of the house. My mom was the one answering the phones!"
It will probably come as no surprise that John has treasured the chance to work with his brothers. Even as the business continues to grow, he hopes you can feel that familial connection when you call John The Plumber.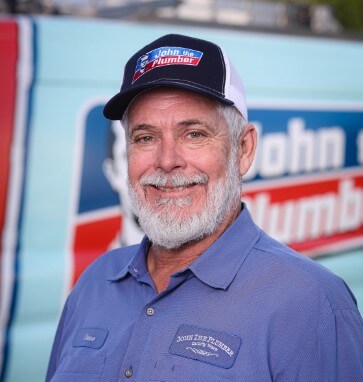 Dave
Continuing chronologically through the brothers, this is David.
David has been an exceptional athlete his entire life. In his younger years, that took many forms including long board and paddle surfing, but he especially volleyball. David played team volleyball throughout the years, but his passion was for beach volleyball. He even played professionally before his career in plumbing.
After some injuries have made it more difficult to play volleyball at the same level he used to, he gave golf a try and is now absolutely in love.
Of course, he also treasures the opportunity to work with his family and carry on the business that still bears his father's name.
At John The Plumber, the idea of a family business also extends to the way we treat our customers.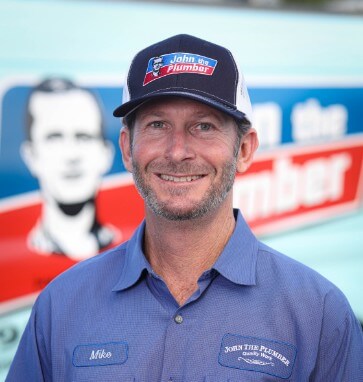 Mike
This brings us to Michael, who is the driving force behind John The Plumber these days!
The pull of plumbing was very strong for Michael, even at a very early age. Being a little younger than his brothers, John The Plumber has been a well-respected business in the community for almost Michael's entire life. Not only was it where his dad was, but both of his brothers worked there as well.
From a young age, Michael was carrying wrenches for people and eventually learning everything there was to know about the business.
And business appealed to Michael.
After graduating college, and becoming a state-certified master plumber, he decided that he too wanted to try something new. He got a job in corporate America.
"It did not last long, though," Michael remembers. "I didn't like the way that things were counted. What mattered at that office, I didn't see it the same way they did."
Like his father before him, Michael realized there was a more meaningful way that he could help people and the area that he has grown to love.
"Every day feels like a vacation to me. Even work days, because we used to come down here on our vacations when I was little.  Doing work I love, with people I love and in a place I love is more than I can ask for."
With the 9 to 5 behind him, Michael is happier than ever. He treasures the chance to serve the people of Broward County – and the opportunity to do it alongside his family, as the owners of John The Plumber.