Sewer Smell In Your Pompano Beach, FL Home
No one likes the smell of sewage, but it isn't just the stink you must worry about! Clogged or damaged sewer lines can not only cause damage to your plumbing system but inhaling the vapors that produce the sewage smell can also damage your health. At John The Plumber, we know how to deal with these issues.
It's important to have foul sewage smells looked at by a Pompano Beach plumber to find the problem and fix it as soon as possible. Depending on the cause, your pipes may be at risk of damage and result in costly repairs. Don't let stinky drains interrupt your day - call our expert team for fast service!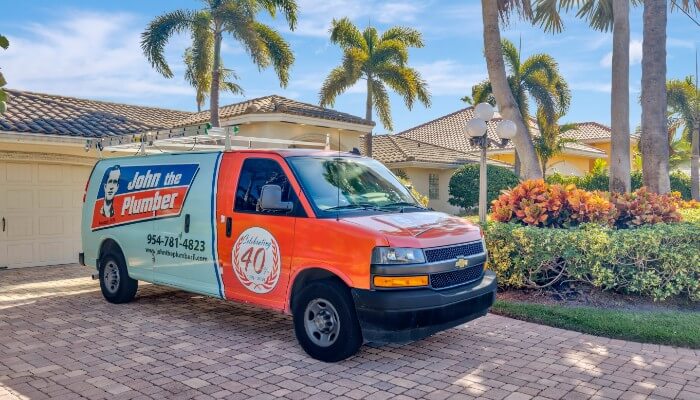 Signs & Symptoms of Sewer Smells in Your Pompano Beach Home
If non-flushable items happen to get flushed down a toilet, they have the potential to build up and clog the sewer line. A sewer line clog can also result from broken pipes or issues with the soil and/or tree roots.
If other appliances are also backing up with water, such as your shower, it may be a sign that your sewer line is clogged and causing an unpleasant smell in your home.
You should call a plumber if you notice: 
Sewage smell in house

Sewage small in bathroom

Smelly drains or sulfur smell in bathroom

New bright green patches of grass in the lawn
The last thing you want to deal with is asking "Why does my bathroom smell like rotten eggs?" If your kitchen or bathroom smells like sewage, it's time to call a plumber to get back to the comfort you deserve.
What Causes Sewer Smells?
When sewage and waste odors invade your home, the number one priority is finding the cause and implementing the right solution. Many sewer smells from drains and fixtures come from damaged and clogged plumbing systems that need professional repair.
Some causes of sewer gas smell in your house:
Blocked or damaged sewer lines

Dry or faulty plumbing traps

Sewer venting issues
At the first sign of a gas smell or sewer smell in your bathroom or kitchen, call John The Plumber! Letting sewer and drain issues linger can cause water to back up and damage your home's plumbing system.
While DIY chemical drain cleaners may help to get rid of the smell for a short time, the only way to solve it for good is to find the underlying issue. We have the expertise and equipment to get to the bottom of your home's sewer smell and provide the most effective solution.
Sewer Smell Solutions Near Pompano Beach
We don't believe in bandaid fixes - we take the time to know exactly what's going on to get the job done right the first time. We will thoroughly inspect your home's sewer system to find the root cause and give you expert recommendations and solutions.
From sewer and drain line cleaning to leak detection and repair, we use specialized camera inspections to locate the issue quickly. We clear clogs and repair damaged pipes to ensure the sewer smell is gone for good.
After any repairs and cleanings, we'll test to make sure that everything is running correctly. We'll help you understand the best ways to maintain your plumbing system, avoid clogs and prevent foul odors from coming back.
If You Smell Sewage, Call John The Plumber!
You shouldn't smell sewage when using appliances. Don't hesitate to call John the Plumber as the problem will worsen.
Call 954-781-4823 today to schedule your camera inspection and get your home smelling good again!