Kitchen & Bath Services In Pompano Beach, FL
John The Plumber offers a full suite of kitchen & bath services in Pompano Beach, FL, and the surrounding areas.
We can fix anything that carries water in those rooms, but that is just the start.
If your equipment is working properly but could be more efficient, we have solutions for you there, as well! Let us install more efficient faucets, toilets, fixtures and more that will save you money on water in the long run. Even if your motivation is more cosmetic, we can help you improve the look of these rooms with something that better fits your style.
Kitchen & bath services are the foundation of everything we've been doing in the community since 1979. Call 954-781-4823 and see why so many of your neighbors wouldn't trust these jobs to anyone else!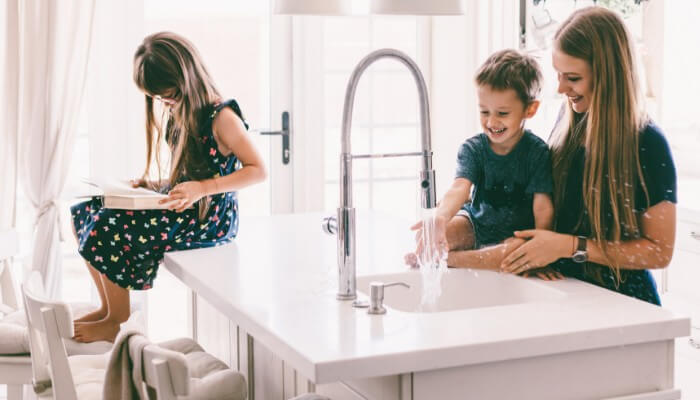 Residential Faucet Services
Faucets are a feature in many of the most important rooms in your home. You do not want to let them fall into disrepair. That's why John The Plumber offers a host of residential faucet services. If they are not functioning properly, we can fix the broken faucet and they'll be as good as new.
As a matter of fact, you might even want to upgrade to new faucets and we can do that for you, too! New faucets can refresh the look of your entire room. No matter what you are looking for, you can look to John The Plumber.
Garbage Disposal Services Near Pompano Beach, FL
No matter how hard you try to get every morsel of food off your plate before it goes in the sink, it's practically impossible to do it. You might even have one of those strainers over your drain to catch some of it, but we both know that some amount of food is going down that drain every time. That can lead to smells, bugs, clogs or worse!
Fortunately, John The Plumber has exceptional garbage disposal services near Pompano Beach, FL!
If you need to get your disposal fixed or if you're looking to upgrade and install a new garbage disposal, we can handle it!
Toilet Services Around The Pompano Beach, FL Area
Did You Know? We get the word 'toilet' from a French word that meant, "to dress oneself."
If your current toilet has you speaking some "french" of your own, then call John The Plumber! We handle toilet repair & installation around the Pompano Beach, FL area and have been doing it since 1979.
Whether your toilet is clogged up, needs to be fixed or needs to be replaced altogether, call us today and save your colorful language for describing your favorite French paintings.