Garbage Disposal Install & Repair In Pompano Beach, FL
Your garbage disposal is one of the most overlooked aspects of the modern home. The convenience of having a place to dispose of food waste without stinking up your kitchen trash is unmatched! But just like any mechanical tool, it can encounter problems that require electrical and plumbing skills.
No fear! John The Plumber is able to tackle any plumbing service issue that comes your way! Call 954-781-4823 to set up your appointment.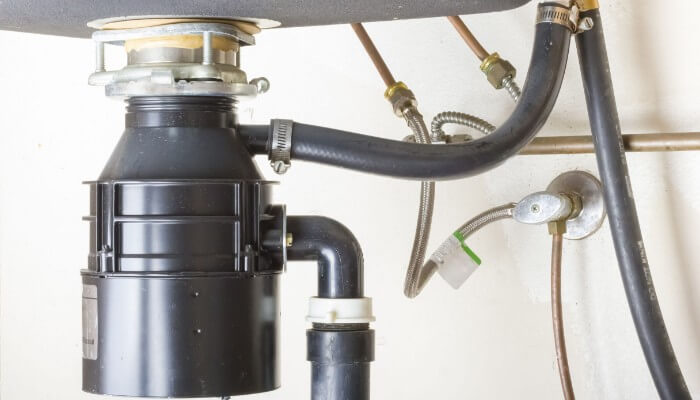 Common Garbage Disposal Issues Near Pompano Beach, FL
As you can imagine, your disposal is a tough device! As the disposal grinds down so much waste, it can wear down leading to a lot of issues.
Here are some common issues:
Foul odors

Jammed blades

Slow to drain

Leaks

Grinding noises (unlike the typical sound)

The disposal won't turn on

Blockage

Blade Corrosion
As problems arise, the machine will become less efficient. When the disposal cannot properly work, you may start to notice the smell!
Just like a trash can that doesn't get taken out, the buildup of food will make itself known! If you're having any problems with your kitchen garbage disposal then call 954-781-4823 today.
In Need of a New Garbage Disposal Installation?
Oftentimes, the cause of garbage disposal problems is the result of improper installation.
Many homeowners opt to pick up a DIY install-friendly disposal, which in many cases does not end up being installed properly. Because of this, the homeowner may end up spending more money than if they had just gotten it replaced or repaired professionally.
If you feel that your system is malfunctioning, give us a call at John The Plumber and let your licensed plumbers diagnose and correct the issue for you with professional quality.
Whether it's a leak, a horrible noise, or a smell that just won't go away, John The Plumber is here to help! Call 954-781-4823 today!
Garbage Disposal Maintenance
Most people don't know that you should be regularly cleaning your garbage disposal! Proper maintenance not only prevents buildup or corrosion but keeps your sink smelling fresh!
To clean your disposal, simply fill your disposal with about 3 cups of ice and one cup of vinegar, then grind it up! That should help remove buildup while sharpening the blades inside.
If that doesn't do the job, you can always call 954-781-4823 for John The Plumber!