Water Heater Installation In Pompano Beach, FL
Do you need new water heater installation?
Our neighbors in Pompano Beach and the surrounding areas trust us to get water heater installations done right! Since 1979, John The Plumber has ensured that our neighbors in Pompano Beach and the surrounding areas have hot water when they need it.
Some of the water heater installation services we offer include:
Conventional, storage water heaters.

Tankless water heaters.
Whether you want to install new electric, natural gas, or tankless water heater, John the Plumber is the team for all your water heater installation needs! Call 954-781-4823 today!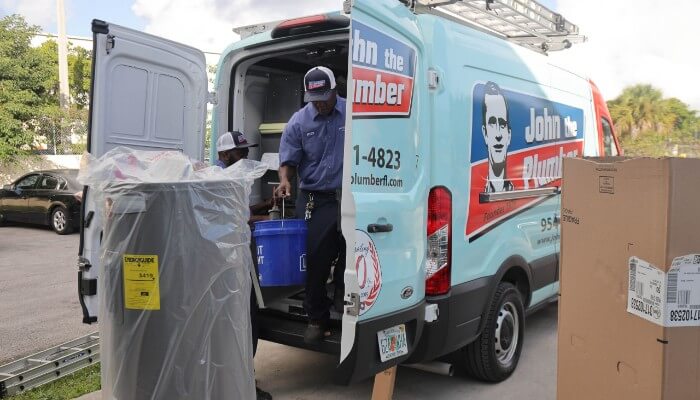 Residential Water Heater Installations Near Pompano Beach, FL
There are several factors to consider when installing a replacement water heater including:
Should I install a traditional or tankless water heater?
A traditional water heater tank stores water so hot water is always available, while a tankless water heater heats water on demand, which is more energy-efficient. Traditional storage-type water heaters are easier and cheaper to install.
Is gas or fuel a better fuel source for my water heater?
It is generally more expensive to install a natural gas-powered heater than an electric water heater, though this decision can be based on local natural gas and electricity costs as well.
What size water heater does my home need?
Traditional tank-style water heaters range from 20-80 gallon tanks with the 40-gallon size being the most common. It's important to keep in mind that the larger the tank, the more expensive it will be for heating costs and to purchase the unit itself. Not sure what size tank is best for your family? Let our plumbing experts at John the Plumber help you decide!
If I choose a tankless water heater, which size should I get?
Tankless water heaters are measured in gallons per minute or their on-demand flow rate. Generally, they range from 4-8 gallons a minute. If you are unsure of what size tankless water heater would work best for your family, give our friendly neighborhood plumbers at John the Plumber a call!
No matter what your hot water needs are, our expert plumbers at John the Plumber will determine the best water heater style and size for your home and needs at an honest and affordable price!
Go on, give us a call at 954-781-4823 and see for yourself!