When To Replace Your Water Heater
From showers and hand washing to cooking, dish cleaning, and laundry; warm running water is vital to everyday living. When you think about how many times you use warm water during the day, the demands placed on your water heater are brought into better perspective.  
Unfortunately, sooner or later, you're likely to see signs that your water heater needs to be replaced. Whether due to age or the strains of everyday usage, most water heaters have a lifespan of about a decade. And while you can prolong your water heater's lifespan with annual preventative maintenance, chances are there will come a time when you'll need to call in a plumber for a replacement.   
Our team at John the Plumber are experts at water heater repairs and installations! In this article, we discuss the signs that are indicating that it might be time to invest in a new water heater. 
Is it Time for a New Water Heater? 
There are many factors to consider when you are faced with needing to invest in a new water heater, but there are two main things to consider first to help you decide:  
Is your water heater damaged or malfunctioning?

 Can these damages be repaired? 

 

How old is your water heater?

 A unit that is only a few years old won't likely need to be replaced unless it is seriously damaged. If your water heater is getting old, then malfunctioning may be signaling to you that a replacement is necessary.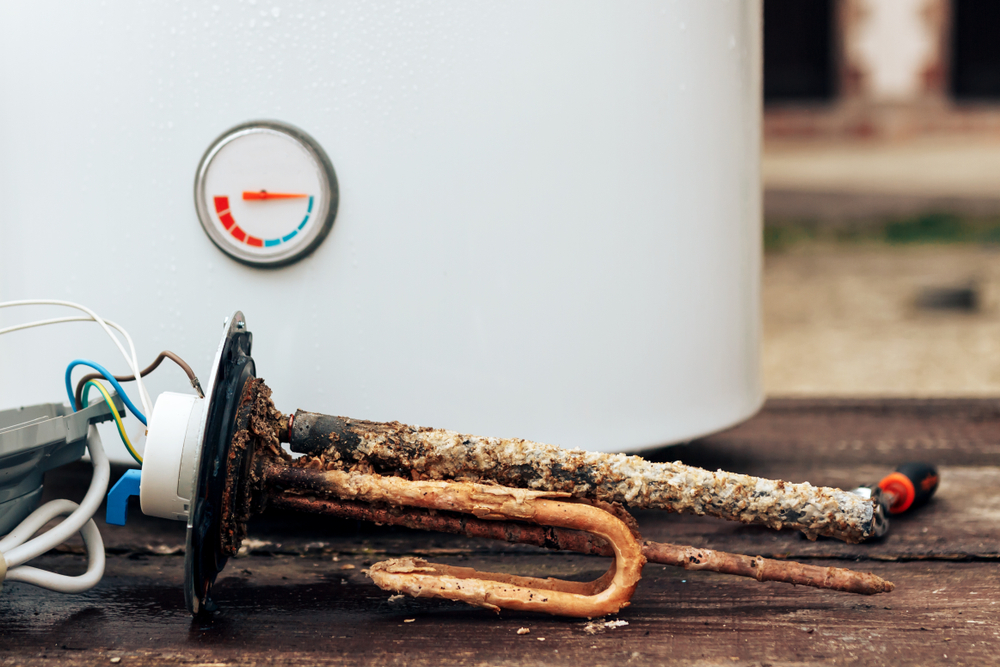 Common Water Heater Malfunctions
 If your water heater is malfunctioning, don't panic. Many water heater issues are repairable.   
Leaks 
Leaking is one of the most common water heater problems that we encounter at John the Plumber. Determining where the leak is coming from is the first step in determining how serious the problem is.  
If the leak is coming from a faulty inlet pipe, outlet pipe, or drain valve inside your water heater, then we can easily fix the problem with a replacement part.

 

However, if the leak is coming from the bottom of your unit due to corrosion inside the water heater itself, it cannot be repaired and will need to be replaced. 

 
If you notice a leak coming from the bottom of your water heater, don't delay! Call John the Plumber immediately before a catastrophic water heater failure occurs—954-781-4823! 
Rust Colored Water
 If there is any discolored water coming from your taps, it could be a sign that your water heater's tank has corroded, and it could be leaking rust into your water supply. If this is the case, then your water heater will need to be replaced as it is damaged beyond repair.  
But before calling us, check to see if the discoloration is coming from your water heater or from your water supply itself. To do so, turn on the cold water tap and see if the discoloration persists. If it does, the water may be getting contaminated before it enters your home, and we recommend calling your utility company to address the problem ASAP.  
No Hot Water 
A lack of hot water can be caused by a variety of reasons, and most are easy to remedy. First, a gas line might have been accidentally turned off to your water heater, or a component in the pilot light might have gone bad. Both are fairly easy to fix.   
But if these aren't the cause of your water heater not supplying hot water, it may be that your water heater itself is failing and requires replacement.   
If you are only intermittently receiving hot water, another cause could be that your water heater may not be sized correctly for your home. If your household is using more hot water than your water heater can produce, then you could be left with cold water when you go to jump in the shower after the kids.  
In this case, you may want to consider replacing your tank with a large one or switching to a tankless water heater system. 
Seeing the Signs? It Might be Time for a New Water Heater
If you are experiencing issues with your water heater, such as rusty water, leaking, or no hot water, give our friendly team at John the Plumber a call! We are ready to inspect, repair, or replace your water heater in Pompano Beach, Fort Lauderdale, Boca Raton, and the surrounding areas.   
Give us a call at 954-781-4823 to schedule an appointment today!