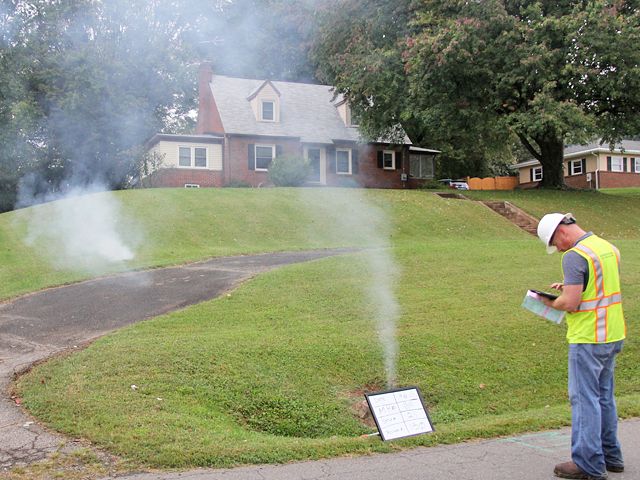 Have you ever heard of smoke testing?
It may sound like it involves actual smoke, but don't worry – that's not the case! Smoke testing is an important tool used by plumbers like us to detect leaks.  
Our cameras can only detect so much, sometimes missing leaks or cracks as they are fairly difficult to detect from the inside. This is especially the case when the damage to the pipe is small or hidden by the build-up inside.  
This is why injecting this "smoke" through the drain pipes or sewer lines can tell us where to search for a leak as it will come up through the ground from the source of the damaged pipe.  
If you believe you may have a leak somewhere in your plumbing system, give John the Plumber a call right away, so we can begin the search for your plumbing solutions!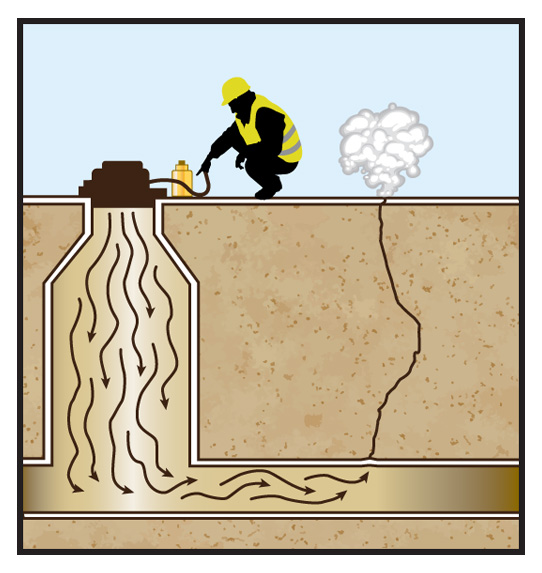 What is the "Smoke" Used in Smoke Testing? 
The smoke used in smoke testing is not an actual cloud of smoke but instead a mist that looks similar to that of a fog machine. This type of smoke-like mist is totally harmless and environmentally friendly, as it has no odor and is non-toxic. It's also easy on your eyes, so there's no need to worry about smoke irritating your eyes or lungs. 
The substance used for smoke testing is non-toxic – safe for your health and the environment's. 
When you utilize this method for leak detection, you can catch minor issues before they become major disasters. Solutions + prevention = happy homeowner. 
Why is Smoke Testing Used for Leak Detection? 
Smoke testing is an incredibly useful tool for plumbers when it comes to identifying and locating the source of a leak. It can easily and accurately pinpoint where the damage in your pipes may be coming from, allowing us to find the exact problem without having to dig up your garden or pull up floors.  
Smoke testing can detect leaks that have been caused by: 
poor or loose connections 
damaged pipes 
incorrect installation of vents.  
Getting this testing done can be important to prevent any health risks in your home. Sewer gas doesn't just smell awful; it can severely affect your health if you breathe it in. Believe it or not, sewer gas can sometimes even be explosive if it contains methane and is deadly if it contains hydrogen sulfide gas.  
Sewer gas leaks can be disruptive, harmful, and even deadly. Never let these nasty smells go ignored. 
Testing with this fog or mist can actually create a visual of harmful and stomach-churning odors, leading to the source of the problems. This makes it much easier, faster, and more cost-effective than searching for the source of a leak through other means.  
How to Know You Should Test for a Leak 
There are many signs your plumbing system will give you when it may have a leak or damage somewhere. It's almost as if it is speaking to you if you know how to listen! 
Here are the most common tell-tale signs our 5-star plumbers have found:  
If you hear gurgling sounds coming from the drain 
If you see water stains on your walls or ceiling 
When you notice a spike in your water bill without an increase in usage 
If you detect a foul odor around your property 
When you feel unusually damp spots in particular rooms of your home 
Or if you experience headaches that have no explanation  
If you're experiencing any of these issues or have noticed any of these signs, don't hesitate to reach out to our experienced technicians! For your health and safety, it is crucial that you act now.  
Ready, Set, Smoke Test…Your Plumbing 
At John the Plumber, we know when it comes to identifying and locating a leak that smoke testing is an incredibly valuable tool. Our experienced technicians are here to help diagnose any plumbing issues you may be facing to get your home back up and running as soon as possible.  
Don't wait – contact us today today and let's get you the solution you need for a healthy and happy home.