Tankless Hot Water Heater Services In Pompano Beach, FL
Do you never seem to have enough hot water when you need it?
Upgrading to a tankless hot water heater for your Pompano Beach home may be the perfect solution! Since 1979, John The Plumber has been helping our neighbors enjoy safe, reliable hot water at every tap, every time. Whether you're ready to install a new water heater or need help repairing your existing unit, we're here to help.
Call 954-781-4823 today to get started!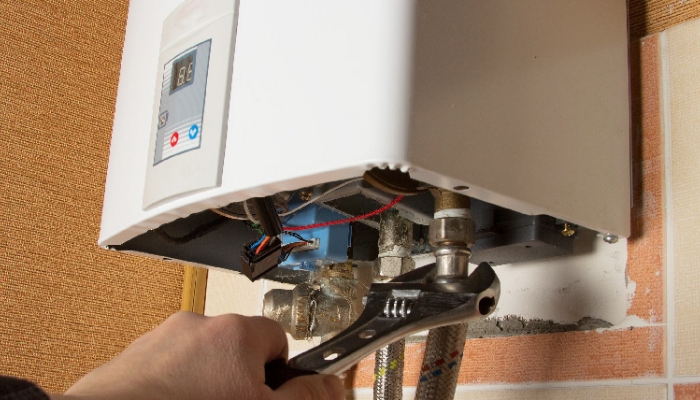 Advantages of Tankless Water Heaters
Tankless water heaters are sometimes called "on-demand" because they heat water as you need it instead of storing heated water in a tank. This means there's no waiting for water to heat to do the dishes or take a shower!
Tankless water heaters offer many advantages including:
More energy efficient by heating water only as needed
Less water and energy waste for lower utility bills
Continuous hot water without waiting for more to heat up
Longer lifespan with proper maintenance
Compact size for small spaces without room for a tank
Our expert plumbers will help you find the right make, model, brand, and size for your home and budget. We'll make sure it's properly installed to last for as long as possible and test it to ensure it's ready to go. We also offer convenient financing so you get exactly what you need without stressing over upfront costs!
Tankless Water Heater Repairs
With 40+ years of experience, our team has seen it all and repaired it all. No matter the problem with your water heater, we'll diagnose and fix the issue in no time.
Your tankless water heater may need repair if:
The water temperature fluctuates between too hot and not hot enough.
Not every appliance or tap gets the same amount of hot water.
There are signs of buildup, like low water pressure.
The flame fails to ignite or won't stay lit.
There are any signs of a water leak from or around the heater.
At John The Plumber, our family always strives to exceed your expectations and provide convenient solutions to make your home as comfortable as possible. We treat your property as our own because, to us, every customer is a part of the family.
When you're ready to upgrade to tankless or need help with a repair, contact our top-rated plumbing team at 954-781-4823 !
How often do you need to replace a tankless water heater?
Tankless water heaters have a longer lifespan compared to traditional tank-style heaters. On average, a well-maintained tankless water heater can last around 20 to 25 years. Regular maintenance, like descaling to prevent mineral buildup, is essential to ensure optimal performance and longevity. Factors such as water quality, usage patterns, and manufacturer quality can influence how often replacement is needed. Monitoring performance, addressing issues promptly, and considering technological advancements can help determine the right time for a replacement.
Can you run multiple showers with a tankless water heater?
Yes, tankless water heaters are designed to provide hot water on demand, making it possible to run multiple showers simultaneously. However, the capacity of the tankless unit matters. Larger units with higher flow rates can better handle multiple fixtures operating simultaneously. It's important to choose a tankless water heater that meets your household's hot water demands, factoring in peak usage times. Consulting with a professional can help you select the right unit to ensure adequate hot water supply for multiple showers.