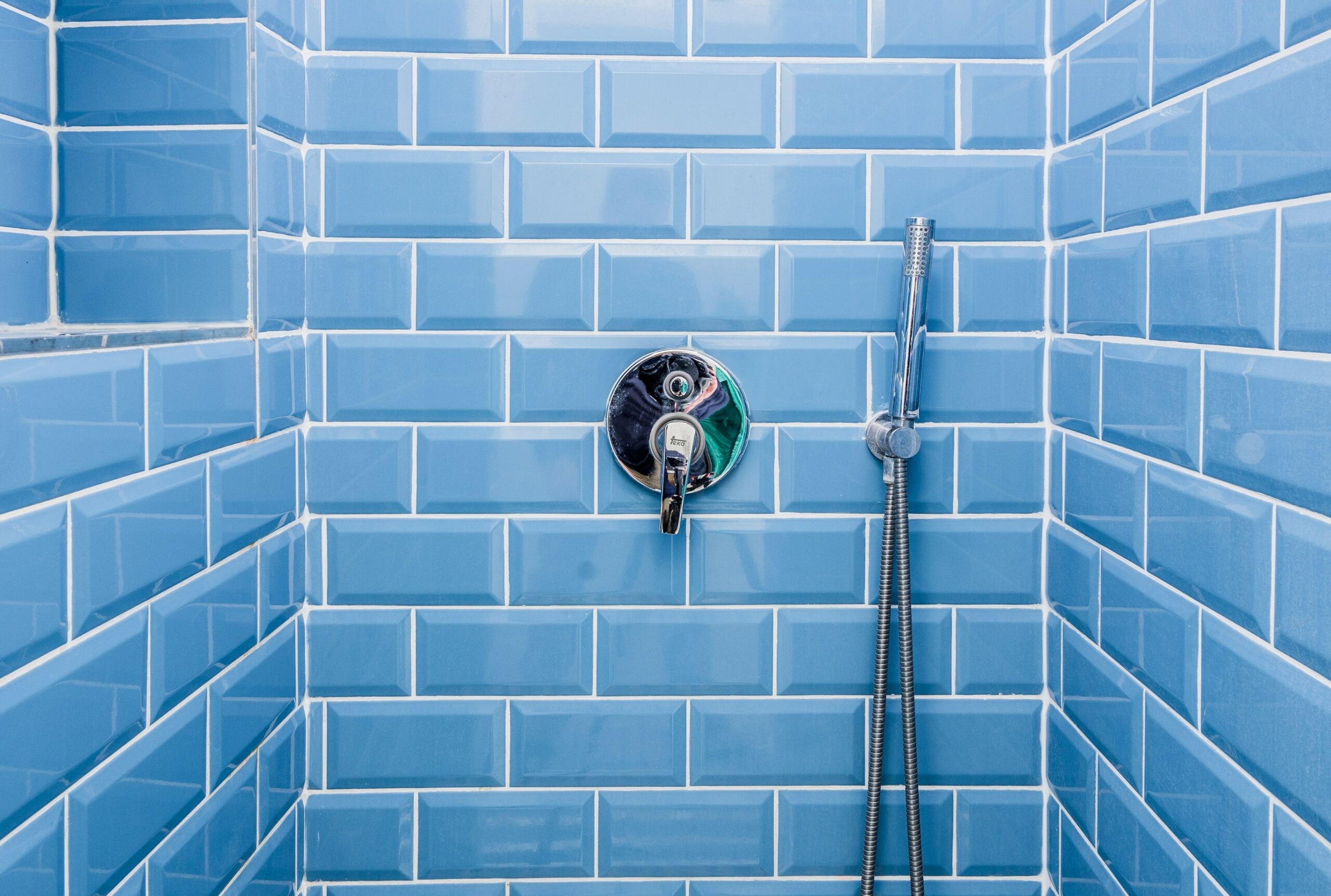 Is Your Shower Handle Sensitive? 
There you are again… standing in the corner of the shower while you tediously tamper with the handle; trying to get the water temperature at a happy balance between boiling and freezing. Isn't there a better way to fix this bathroom fixture?  
No, not all shower handles are like that, and John the Plumber can help get yours back to normal! Wasting water, time, and a little bit of your sanity should never be the outcome of a shower.
Our plumbing professionals finally answer that question that's been on your mind every day, "Why is my shower handle so sensitive!?"   
The Problem with Single-Control Levers 
In most modern homes, the standard shower head is a single-control lever that adjusts the temperature and the flow of the water. Seems simple enough, but it's not always when it comes to finding the perfect temperature.  
A typical water heater reaches about 120 degrees, while cold water ranges from 40 to 50 degrees. Mixing two extremes already makes achieving the perfect balance difficult, but it becomes even more so when you factor in how these levers work.  
The single-control lever works by pushing water through a nozzle that has small holes, much like when you try to spray something with a hose. As the volume increases, so does the flow of water; but it also decreases the pressure of each individual stream – forcing water to come out at different speeds.
This is why you may see a slight mist as the water comes out, or get little spurts of scalding hot water before you finally find your happy medium. 
How can this be fixed?
By upgrading to a thermostatic mixing valve!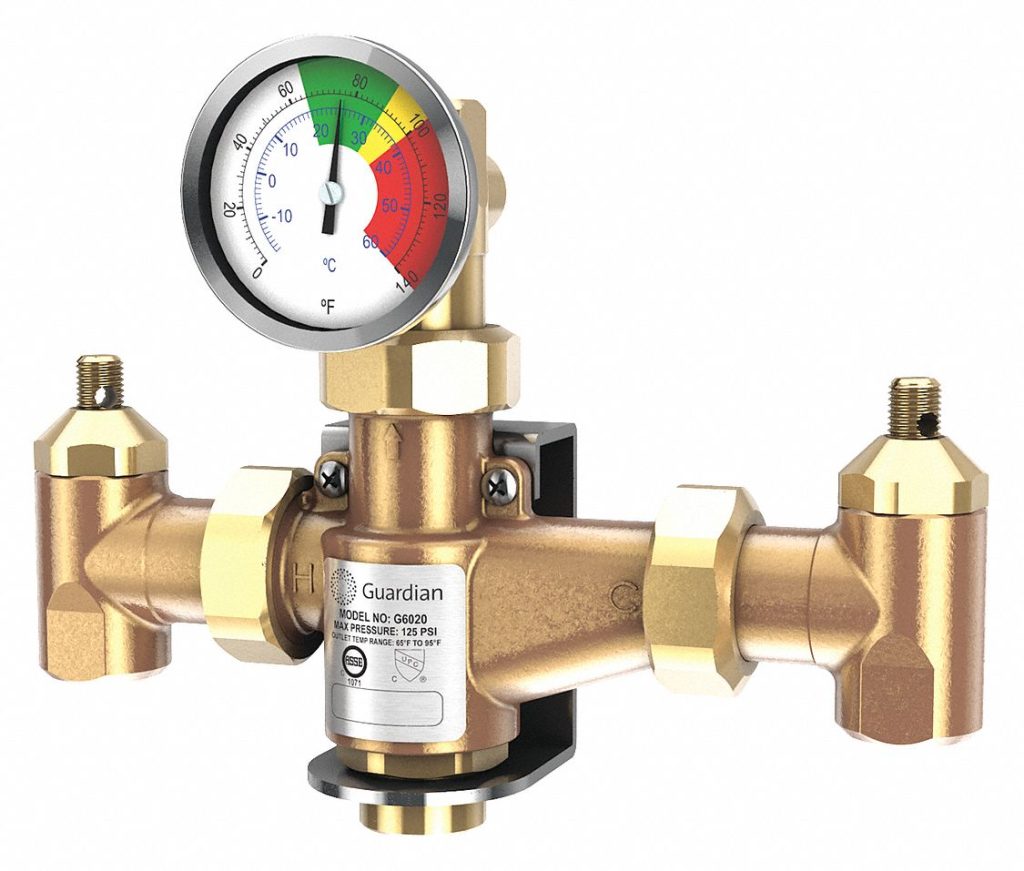 What is a Thermostatic Mixing Valve? 
A thermostatic mixing valve is a device that controls the temperature of water without causing fluctuations in pressure. In other words, it's designed to automatically adjust the incoming hot and cold temperatures until it reaches the desired output temperature. 
 
When you turn on your shower using this valve, the device will analyze the water coming into it, instantly detecting changes and adjusting accordingly.  
Standard and Thermostatic Mixing Valve Differences 
While both a standard and thermostatic mixing valve work by mixing hot and cold water together, the main difference is that in a single-control lever, this process takes place inside the shower head. 
By having a separate mixing valve outside the shower head, water is able to naturally flow back and forth between hot and cold before finally entering. This prevents any fluctuations in temperature or sudden bursts of scalding hot water from occurring.  
Other Causes of a Hard-to-Balance Shower Handle 
Of course, you could be experiencing other issues with your plumbing so it's best to have a licensed professional take a look. This will ensure the best repairs are made and you can finally rest easy (and take an enjoyable shower). 
It's not just the typical inaccuracy that comes with single-control levers. Other common shower-related issues we see are things like a damaged or worn-out handle.
We also find these issues that are a part of the problem with your plumbing:  
Dirty nozzles 
Worn-out washers 
Clogged filters 
Broken springs  
Unfortunately, it may not be an issue with your shower, but your whole home's plumbing instead. For example, old pipes that are poorly insulated may cause water to cool down quickly after leaving the heater; or a leak could be causing you to run out of hot water much sooner than expected.  
An experienced plumber will diagnose your issue by inspecting both the shower setup and your home's plumbing system. For a more reliable, accurate, and affordable solution for all your plumbing needs, don't hesitate to contact us today!  
 Ready for the Perfect Shower Every Time? Call John the Plumber  
There you have it – our guide to why your shower handle is acting so sensitive. By upgrading to a thermostatic mixing valve or seeing if there are any other possible causes in your home's plumbing system. 
Are you ready to enjoy your showers again? Whether it's a bad nozzle, leaks, or a failing water heater, the plumbers here at John the Plumber have your back!
We've been trusted in the area for over 40 years and we guarantee to treat you and your home right. That's what neighbors do and we are proud of our reputation as one of the best local plumbers in the Pompano Beach area.
Call today: (954) 781-4823.